German Brick Stitch embroidered 14th Century bag
Taschen kann man ja nie genug haben! :-)
Ein weiterer Grund warum ich nicht widerstehen konnte, als ich auf der Website des Victoria and Albert Museums über ein Täschchen aus dem 14. Jahrhundert gestolpert bin.
You can never have enough bags! :-)
Another reason I was not able to resist, when I stumbled upon a bag from the 14th Century on the website of the Victoria & Albert Museum.
Das Original ist in "German Brick Stitch" mit Seide auf Leinen gearbeitet und ist
14,7 x 12,5cm groß. Für weitere Infos bitte unten auf den Link zur V&A Website klicken.
The original is embroidered in German Brick Stitch in silk on linen and its dimensions are 14,7 x 12,5cm . For further details please klick on the link to the V&A website below.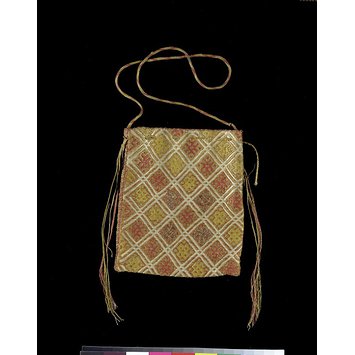 bag, 14th Century, Victoria & Albert Museum
Während meiner Recherche fand ich das Muster und eine ausführliche Beschreibung des Täschchens auf der wunderbaren Seite von Timothy J. Mitchell -
www.wymarc.com
.
Viele weitere Muster sind hier zu finden - mindestens zwei davon möchte ich früher oder später noch ausprobieren... ;-)
During my research I found the pattern and discriptions for the bag on the wonderful site of Timothy J. Mitchell - www.wymarc.com. Many more patterns can be found there. At least two more I want to make sooner or later... ;-)
Mein Täschchen ist mit roter Seide gefüttert und mit Mouline-Garn bestickt. Seidengarn wäre schöner und authentischer gewesen, aber als ich damit vor beinahe 1 1/2 Jahren begonnen habe wollte ich einfach Material aus meinem Lager verarbeiten.
My bag is lined with red silk and embroidered with mouline yarn. Silk yarn would have been nicer and more authentic but when I started it nearly 1 1/2 years ago I wanted to reduce my yarn stash.
Ich fand auch die verwendeten Bänder an dem Täschchen spannend. Die Einfassung ist laut Timothy J. Mitchell entweder ein dekorativer Stich oder ein brettchengewebtes Band. Ich habe mich für zweiteres entschieden und konnte so endlich mal wieder meinen Brettchenwebstuhl verwenden.
I also thought the cords quite interesting. According to Timothy J. Mitchell the seams of the bag are either a decorative stitch or a tablet-woven edging. I decided for the later and so I finally could use my inkle loom again.
Die Bänder zum Zusammenziehen sind in fingerloop Technik gemacht. Ich glaube da werde ich noch üben müssen, aber vorerst erfüllen sie ihren Zweck.
The drawstrings appear to be fingerloop braids. I think I will have to practise a bit more, but for now they will do.
Ganz speziell ist das "Trageband"; Cindy Myers -
www.silkewerk.com
hat dazu einen tollen Beitrag geschrieben und beschreibt wie man dieses in Brettchenwebtechnik herstellen kann.
Ich habe mein Band nach ihrer Anleitung gearbeitet, habe jedoch die Anzahl der Brettchen von 9 (3 je Farbe) auf 6 (2 je Farbe) verändert
The handle is quite special; Cindy Myers - www.silkewerk.com wrote a great article about it and explains how to make one by tablet weaving. I followed her instructions but changed the numbers of cards from 9 ( 3 per colour) to 6 (2 per colour).
Ich habe eine große Freude damit und plane bereits das nächste Stickprojekt. :-)
I´m very happy with the result and am already planning my next embroidery project. :-)